Background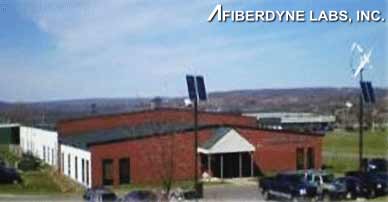 Fiberdyne Labs has two facilities; 22,000 sq. ft. Corporate offices and manufacturing in Frankfort, New York, Engineering and Professional Services in a 3,000 sq. ft. facility in Herkimer, New York. Fiberdyne is profitable, has minimal debt, and foresees major growth.

Fiberdyne Labs' core expertise, over the past 16 years, has been Fiber Optics. Thus, we are experts in the physics of light and understand photon waveguides. Many aspects of our expertise with light and photons apply to our expertise in Solid State Lighting development.

Fiberdyne Labs was established in 1992 with a focus on fiber optic networking. Fiberdyne Labs has grown to a USA leader in fiber optic assemblies over the past 16 years providing networking solutions to major network providers such as Verizon, AT &T, and Sprint; major cable television and internet network providers such as Time Warner, Comcast, and Cox Communications; Fortune 2000 companies such as IBM, General Dynamics, Raytheon, HP, Morgan Stanley and Cisco; various major schools and universities; various municipalities; and many health care / hospital facilities across the USA. Fiberdyne Labs' primary strengths are in the following areas:
Fiber Optic Cabling House.
Custom Cabling Application (fiber and copper) as required by our customers.
Manufacturer of Passive Optical Components such as Optical Splitters/Couplers and Wave Division Multiplexers (WDM), Coarse Wave Division Multiplexers (CWDM), and Dense Wave Division Multiplexers (DWDM) components and assemblies.
Manufacturer of active networking devices such as media converters and Ethernet layer 2 switches.
Professional Services organization with great expertise and experience in low voltage structured cabling installation. This includes fiber optic splicing services, cable installation, crisis recovery, Cat5e, Cat6, Ethernet cabling installation, low voltage cabling for telephone, alarm system, and/or video camera systems, and network Cabling Performance Testing (Loss Test Set, OTDR testing).
Leader in Fiber Characterization Services - with major key accounts such as AT&T, Time Warner, Cable Vision Lightpath, EA Technologies (NYC Transit), A.O. Fox Hospital, Level (3), etc. This testing ensures that fiber optic spans will support higher bandwidth traffic, such as 2.5G, 10G, 40G and 100G. Tests such as Polarization Mode Dispersion (PMD) and Chromatic Dispersion (CD) are performed to truly characterize the capability of a network span.
Fiberdyne Labs is ISO 9000:2001 quality certified, providing only the highest quality product and services. Our number one objective is complete customer satisfaction!
Fiberdyne Energy Division
In 2007 Fiberdyne Labs created a new division, Fiberdyne Energy, devoted to SSL product solution with the primary objective of creating SSL based energy saving solutions. The first development was an integration of products:
LED Cobrahead
PV Solar Array
Vertical Windmill
Storage batteries, Steel mounting pole, motion sensing and electronic controllers for the PV array and wind turbine.
Manufacturing Capabilities
Fiberdyne Labs' current manufacturing capabilities and expertise are with fiber optic assemblies, including precision polishing of glass, termination, and optical testing. We manufacture fused biconic optical couplers / splitters and various optical passive devices which all required spectrum analysis expertise. Fiberdyne also has expertise in the manufacturing and testing of surface mount printed circuit boards. Fiberdyne believes in investing in the latest proven fabrication and testing equipment, along with training our personal, to meet demands for delivery time and to ensure only the highest quality levels. We are ISO 9001:2000 Quality certified and place customer satisfaction is our primary objective. Our manufacturing facility is located in Frankfort, New York.